…more than immune boosting
Immunovet is a unique nutritional supplement made from biotechnologically transformed wheat germ (Triticum vulgare) for animals. The bioactive compounds are formed during a highly controlled biotechnological process with a special fermentation of wheat germ by a certain strain of Saccharomyces cerevisiae. It's unique in the world. This product has antioxidant and immune-stimulant effect
Immunovet benefits
 Significantly increases weight gain, milk- and egg production
Has beneficial effects on the immune system leading to less diseases and animal loss in every researched population
Improves feed conversion ratio
Leads to more effective vaccination due to its immunostimulant properties
Results in better reproductive biological indicators
Caused no side effect in the investigated species
Consequently can decrease antibiotic usage on farms due to its performance enhancer and health promoter effects
.
ABOUT IMMUNOVET?
FERMENTED WHEAT GERM EXTRACT
Immunovet´s main ingredient is fermented wheat germ extract, produced from non-GMO wheat through a complex biotechnological process in a pharmaceutical plant based in Hungary.
GOOD MIXING PROPERTIES & DURABILITY
Immunovet comes in powder format that can be mixed well in any type of feed, is flavourless and dourless. It's easy to transport, store (2 years of shelf life) and can withstand extreme climate and pressure.
ANTI-INFLAMMATORY & IMMUNOSTIMULANT
Immunovet has shown to reduce diseases in farm populations, reduce animal loss and decrease susceptibility to infections. An increased immune response has also been observed, making
vaccinations more effective.
NATURAL, NON-TOXIC, NON-GMO
Immunovet is a natural alternative to antibiotics, made from non-GMO wheat crops with zero toxicity, therefore it can be used safely in organic as well as traditional farming in line with EU-regulations.
BETTER REPRODUCTIVE BIOLOGICAL INDICATORS
Immunovet increases fertility rate and reduces the time in between pregnancies, while also minimising the risk of miscarriage and complications during pregnancies and birth.
An improved health status has been displayed by not only the pregnant animals, but their offsprings as well.
WELL RESEARCHED IN VITRO & IN VIVO
Immunovet has been researched for over two decades, both in vitro and in vivo, with results showing notable benefits in various types of animals and cell cultures. During the studies and over the years of public use, no side effects
have been reported
INCREASED PRODUCTION & BETTER FCR
Immunovet studies are backed up by real life examples show-casing a significant increase in weight gain and egg / milk production of farm animals. A better food conversion rate was also confirmed as well as an improvement of meat quality.
GLOBALLY USED ALL-IN-ONE SUPPLEMENT
Immunovet has been used globally by vets, pet owners, farms and zoos. It is effective against a wide variety of diseases and offers a natural solution to obtain improvements in the animals´ health and production.
.
.

.
POULTRY
.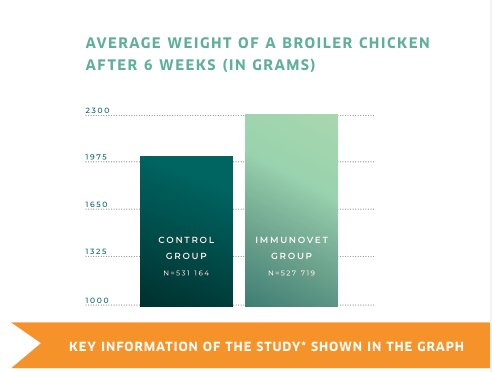 INCREASED WEIGHT GAIN

Broiler poultry (chicken, turkey and geese) test subjects that were given feed mixed with 1% Immunovet have shown a significant increase
in weight (4.68% – 20.03%) within two months.
UP TO 9.3% INCREASE IN EGG PRODUCTION
Several studies on laying hens and ducks showcased that the groups fed Immunovet yielded between 2.36% and 9.8% more eggs than the control group.
Szent István Egyetem, Állatorvos-tudományi Kar: Az Immunovet-HBM táplálékkiegészítő mezőgazdasági nagyüzem
Alany | brojlercsirke Év | 2003 Csoport mérete | több mint 500.000 Adag | 1g/kg táp a növekedési időszakban Eredmény | 14.2% súlygyarapodás és 18.1% takarmány-értékesítési arány

PIGS
.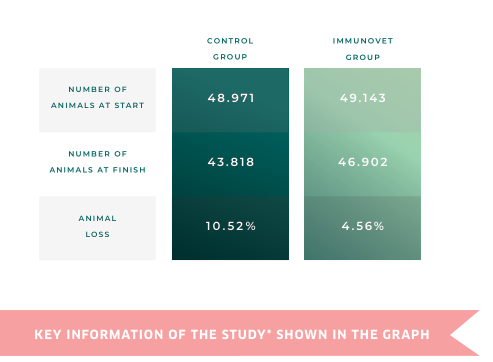 SIGNIFICANTLY LOWER ANIMAL LOSS
A large-scale study* involving close to 100.000 pigs showed that Immunovet lowers the severity of enteritis, mycoplasma and CPV2 infections and as
a result, mortality in the trial group halved compared to the control group during the 150 day trial period.
BETTER FCR AND INCREASED MEAT QUALITY
Based on studies in the early 2000´s conducted by the University of Veterinary Medicine Budapest, besides an increase in meat quality of fattener pigs, feed conversion ratio dropped by an average of 14%.
Szent István Egyetem, Állatorvos-tudományi Kar: Az Immunovet-HBM táplálékkiegészítő mezőgazdasági nagyüzemekben tartott hízó sertések hozamára gyakorolt hatása (2002).
Alany | 28 napos elválasztott malacok Év | 2002 Csoport mérete | 98.114 Adagolás | 1g / takarmány kg Eredmény | 43%-kal kevesebb elhullás, 5.66%-kal nagyobb testsúly és 13.9%-kal jobb takarmányhasznosulási arány
RUMINANTS
.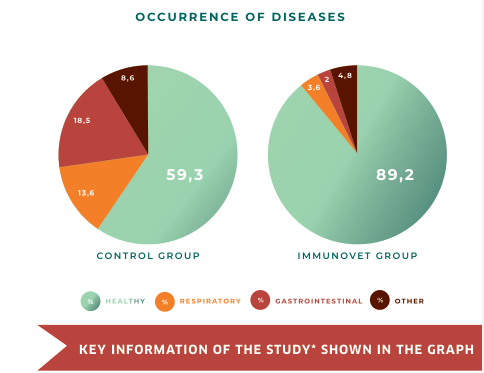 DECREASED FREQUENCY AND SEVERITY OF RESPIRATORY AND GASTROINTESTINAL DISEASES
At least four independent research papers suggest that several respiratory and gastrointestinal diseases occured less frequently in cattle, while
symptoms such as severe diarrhea weren't observed at all in the group taking Immunovet. Their overall improved metabolic state, less frequent and less severe symptoms meant that only 13% of the calves needed medication versus 35% in the control group.
INCREASED REPRODUCTIVE INDICATORS

A study focusing on Immunovet´s effect on the cattle´s reproductive indicators in 2004 showed positive results: the group´s pregnancy rate was 16% higher, they had fewer open days between pregnancies and most notably, the insemination index improved by 40%. There have been other studies where Immunovet´s positive effect on the reproductive indicators was confirmed.
Szent István Egyetem, Állatorvos-tudományi Kar: Az Immunovet-HBM, borjak egészségi állapotára és növekedésére gyakorolt hatása.
Alany | elválasztott borjak Év | 2007 Csoport méret | 184 Adagolás | napi 20 g (8 napon át), utána napi 10 g Eredmény | a megbetegedések és a tünetek gyakorisága és súlyossága számottevően csökkent

AQUATIC ANIMALS
.
BETTER FCR
QUICKER FATTENING
BETTER MEAT QUALITY
IMPROVED REPRODUCTIVE INDICATORS
LESS ANIMAL LOSS
DECREASED SPREAD AND SEVERITY OF DISEASES
DECREASED MEDICAL COSTS
ECONOMICAL – LOW DOSAGE
INCREASED FARM PROFITABILITY
NATURAL ALTERNATIVE TO ANTIBIOTICS
NO SIDE EFFECTS
ENVIRONMENTAL FRIENDLY (ZERO CONTAMINATION)
WELL RESEARCHED & GLOBALLY USED
MANUFACTURED IN THE EU UNDER PHARMACEUTICAL CONDITIONS
List of Immunovet studies and publications are available upon request.
PRODUCT
Immunovet is more than an immune boosting complementary food for animals. It is a unique nutritional supplement made from biotechnologically transformed wheat (Triticum vulgare) germ. The active compound is a mixture of bioactive molecules, among others benzoquinones and their methoxysubstituated forms. The bioactive compounds are formed during a highly controlled biotechnological process with a special fermentation of wheat germ by a certain strain of Saccharomyces cerevisiae. Immunovet is a mixture of fractions manufactured via this complex process.
Immunovet is a mixture of fractions produced by this complex process.

IMMUNOVET BENEFITS
 

Significantly increases weight gain, milk- and egg production

Has beneficial effects on the immune system leading to less diseases and animal loss in every researched population
Improves feed conversion ratio
Leads to more effective vaccination due to its immunostimulant properties
Results in better reproductive biological indicators
Caused no side effect in the investigated species
Consequently can decrease antibiotic usage on farms due to its  performance enhancer and health promoter effects
Available in 20 and 25 kg packages
,
,
…more than immune boosting
,
 ,
CONTACT US
For more information and details, please do not hesitate to reach out to us. We would be glad to answer any questions you may have regarding Immunovet and its use in any environment.
Veronika Szakály 
Sales manager  szakaly.veronika@immunovet.hu +36703792159
Viktória Jung 
Business development manager   v.jung@immunovet.info +34 657105057